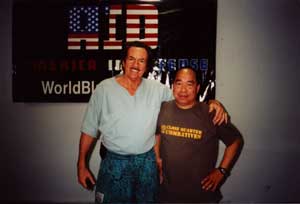 Maestro Jay with Friend Bob Wall, Martial Arts and Cinema Legend, and founder of World Blackbelt, Inc. (WBB). Maestro Jay is currently a national certified instructor and travel marshal of WBB's "America-In-Defense" Program which teaches airline cabin crew self-defense developed by Bob Wall in the wake of the September 11, 2001 tragedy.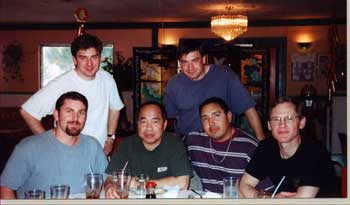 A Reunion of Sorts - In 2001, Maestro Jay and FFA students from Sane Jose, CA and Laguna Hills, CA traveled to Glendora, CA for a 3-hour Workout/Fightfest with Sifu Steve Aron and his students. Here are some survivors after lunch at a nearby Chinese restaurant:
Front Row, L to R, Kenpo Sensei Jeremiah Stanley (FFA, San Jose), Maestro Jay de Leon (FFA, Laguna Hills), Ruben Torres (FFA, San Jose) and Sifu Steve Aron (Steve Aron's Academy of Fighting Arts, Glendora, CA).
Back Row, L to R, Ben Tryon (FFA, Laguna Hills), Kenpo Sensei Matt Tryon (FFA, San Jose,), and no, you are not seeing double, they are twins.
Not in Picture: Melody Chen (FFA, Laguna Hills) because she took the picture.