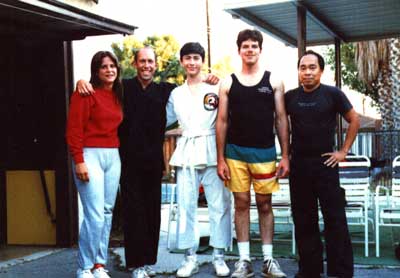 The First FFA School, though small, was made up of a core of tough, dedicated former students of Steve Aron's Academy of Fighting Arts.
Above Pics:
Maestro Jay and FFA student and former Steve Aron student John Dill doing Muay Thai kickboxing outdoors -- no protective equipment, full speed, hard contact, no quarter asked or given.
Left Pic:
Originally a Steve Aron student, the Rev. Sherman Rourman, an ordained minister and successful owner of an Auto Dealership, has the distinction of being the first black belt promoted by Maestro Jay. A flamboyant performer, he has become a winning champion in the black belt weapons division in karate tournaments in Los Angeles.