Maestro Jay de Leon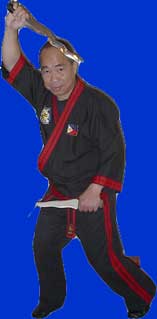 Maestro (Teacher) Jay de Leon has over 35 years experience in the martial arts, both in the Philippines and the United States. He currently owns and operates a school called Filipino Fighting Arts in Orange County, California, USA, teaching Filipino martial arts (arnis, eskrima, kali) as the core style. In addition, Maestro de Leon has either black belt or instructor ranking in other traditional martial arts systems including shorin-ryu (Latino Gonzalez style, Phil.), Parker kenpo, Kodokan judo (Phil.), Muay Thai kickboxing, JKA shotokan , JKD (jeet kune do), and jiu-jitsu.
In addition, Maestro de Leon has taught martial arts and self-defense to school and community groups, such as the Filipino Coalition of San Jose, CA, law enforcement and security officers, and corporate executives. He is currently an airline travel marshal and certified instructor of the "America-in-Defense" program, which was created by Bob Wall's WorldBlackBelt, Inc.as a response to the Sept. 11 tragedy, and trains flight attendants in self-defense.
Maestro de Leon's martial arts affiliations include
Academy of Fighting Arts under GM Stephen Aron (first generation instructor of Parker kenpo, certified instructor of Inosanto Kali, JKD certified instructor under Pete Jacobs, and JKD Nucleus Member of the Bruce Lee Education Foundation);
Canada International Martial Arts Society (CIMAS) under Maestro Bernardo Salinas, of which Maestro de Leon is the California representative;
Arnis/Kali/Eskrima Academy under GM Nes Fernandez of Daly City, CA, a Master of Pangasinan arnis, who is also a cousin;
Kenpo United Self Defense Group under Sensei Jeremiah Stanley of San Jose, CA
Filipino Fighting Arts Int'l under GM Godofredo Fajardo (former chief instructor of NARAPHIL) of Manila, Philippines, and other Philippine organizations.
Jay de Leon is a CPA and financial advisor by profession, as well as a sports coach in soccer, basketball and wrestling to his three children, Michael, Mitchell and Paulina, an entrepreneur, a community volunteer and activist, a writer, and a historian. His other interests include travel, languages, coin collecting and trivia.